Common sense, it's one of the most important things to practice when on the slopes. The National Ski Areas Association (NSAA) believes education, helmet use, respect, and common sense are of the utmost importance when visiting a ski area. NSAA developed Your Responsibility Code to promote the awareness of how common sense and awareness can reduce potential risks.
Observe Your Responsibility Code
Powderhorn Mountain Resort is committed to promoting slope safety. In addition to those using traditional alpine ski equipment, others on the slopes include snowboarders, telemark skiers, skiers with disabilities, skiers with specialized equipment, and many others. Always show courtesy to others and be aware that there are elements of risk in skiing and snowboarding that common sense and personal awareness can help reduce. Know your ability level and stay within it. Observe Your Responsibility Code. Share with others the responsibility of being a great steward of the ski and snowboard experience.
Ten Points to Your Responsibility Code
Always stay in control. You must be able to stop or avoid people or objects. 

People ahead or downhill of you have the right of way. You must avoid them. 

Stop only where you are visible from above and do not restrict traffic.

Look uphill and avoid others before starting downhill or entering a trail. 

You must prevent runaway equipment.

Read and obey all posted signs, warnings, and hazard markers.

Keep off closed trails and out of closed areas.

You must know how and be able to load, ride and unload lifts safely. If you need assistance, ask the lift attendant.

Do not use lifts or terrain when impaired by alcohol or drugs. 

If you are involved in a collision or incident, share your contact information with each other and a ski area employee. 
Winter sports involve risk of serious injury or death. Your knowledge, decsions and actions contribute to your safety and that of others. If you need help understanding the Code, please ask any ski area employee.

Know and Obey the Code: It's Your Responsibility
Helmets
Helmets are highly recommended and should be worn at all times when skiing and snowboarding. Learn more about the NSAA Lids On Kids program.
Electronic Devices
Powderhorn Mountain Resort strongly discourages the use of electronic devices including cell phones, personal entertainment and communication devices, and any other electronic equipment that utilizes head/earphones while skiing and snowboarding, or loading and unloading lifts.
Mtn Equipment
Snowcats, snowmobiles, and snowmaking operations/equipment may be encountered at any time.
Other Equip.
Leashes and metal edges are required for all downhill equipment at Powderhorn Mountain Resort. Foot traffic/ski bikes/snowskates are prohibited on fixed grip lifts including EZ Rider and West End. 
Skiers Safety Act - Duties of Passengers
33-44-105. Duties of passengers. (1) No passenger shall board a passenger tramway if he does not have sufficient physical dexterity, ability, and knowledge to negotiate or use such facility safely or until such passenger has asked for and received information sufficient to enable him to use the equipment safely. A passenger is required to follow any written or verbal instructions that are given to him regarding the use of the passenger tramway.

Children Riding the Lift. All riders must have their own lift ticket. Passengers must be able to walk up/ski up to the "Load Here" signage. Children may be helped on and off the chair but must be able to sit and hold on by themselves. Children are not allowed to ride on the laps of adults. It may be requested of the lift attendant to slow down the lift for any individual. It also may be requested to ask for additional assistance from a lift attendant.

Children in Backpacks. Children in backpacks are prohibited from riding the lift. Children are allowed in backpacks if the parents/guardian are skinning or walking up the mountain on Greenhorn ONLY. The parent or guardian must obtain a ticket or have a season pass for both parties. The only downhill activities permitted for children in backpacks are skinning or walking downhill on Greenhorn. All rules pertaining to uphill and downhill traffic must be obeyed at all times.
Warning - Assumption of Risk
Under Colorado law, a skier assumes the risk of any injury to person or property resulting from any of the inherent dangers and risks of skiing and may not recover from any ski area operator for any injury resulting from any of the inherent danger and risk of skiing, including: changing weather conditions; existing and changing snow conditions; bare spots; rocks; stumps; trees; collisions with natural objects, man-made objects, or other skiers; variations in terrain; and the failure of skiers to ski within their own abilities.
The Ski Safety Act was amended in 2004 to include CLIFFS, EXTREME TERRAIN, JUMPS, AND FREESTYLE TERRAIN as inherent dangers and risks of the sport.
Skiers and Riders should be advised that a green circle, blue square, or black diamond trail at Powderhorn Mountain Resort is not necessarily the same as a green circle, blue square, or black diamond trail at other resort. The system is a relative rating of trail at each resort and odes not compare trail difficulty between resorts. Skiers and Riders should begin with the easiest terrain and then move up in difficulty as their ability permits in order to understand the relative rating at Powderhorn Mountain Resort.
Lift Safety
Under Colorado law, you cannot board a lift unless you have sufficient physical dexterity, ability, knowledge to negotiate or to use such lift safely, or until you have ask for and received information sufficient to enable you to use the lift safely. You may not use a lift or any ski trail when under the influence of drugs or alcohol. When riding lifts with children, you are encouraged to be especially mindful of the safety needs of younger guests. Be sure to use the safety bar, and make sure all lift passengers understand how to safely load and unload.

Read more about child lift safety, or review Colorado Ski Country's safety video for more information. 
Snow Immersion Suffocation (SIS Hazards)
Skiing and snowboarding off the groomed runs and in deep powder is one of the most exciting and appealing parts of our sport. However, if you decide to leave the groomed trails, you are voluntarily accepting the risk of a deep snow immersion accident. A deep snow or tree well immersion accident occurs when a skier or rider falls into an area of deep unconsolodated snow and becomes immobilzed and suffocates. Deaths resulting from these kinds of accidents are referred to as an SIS hazard or Snow Immersion Suffocation.  

Become educated on how to reduce the risk of SIS hazards through your own action and awareness. ALWAYS ski or ride with a partner within viewing distance. Click the button below for additional resources designed to assist all skiers and riders in educating themselves about the risks and prevention of deep snow and tree well immersion accidents.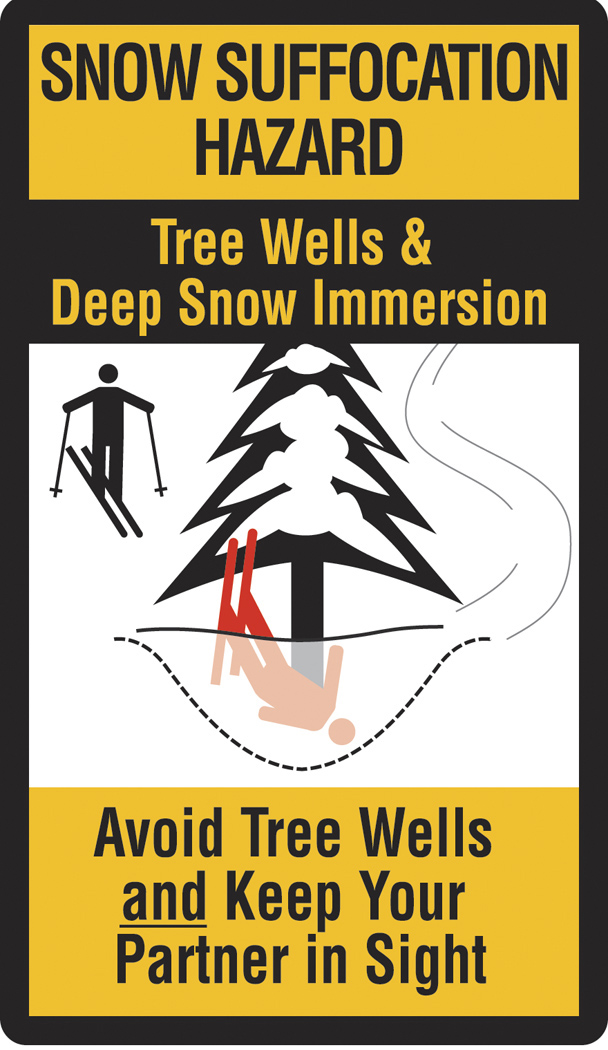 Slow Zones
Certain areas (indicated on the trail map in yellow) are designated as SLOW ZONES. Please observe the posted slow areas by maintaining a speed not faster than the general flow of traffic. Space and speed are especially important in these areas. Fast and aggressive skiing will not be tolerated.
Smoke Free Zone
In keeping with our company's intent to provide a safe, pleasant and healthful work environment, smoking, tobacco and vape use (which includes chewing tobacco and electronic cigarettes) is prohibited on Resort Property.
Drones
Due to safety and privacy concerns, Powderhorn Mountain Resort prohibits the operation or use on or above Resort property of unmanned aerial systems, or drones, by the general public – including model aircraft by recreational users and hobbyists – without the prior written authorization from Powderhorn Mountain Resort. This prohibition includes drones used for filming or videotaping, as well as any drone use by media or journalists operating above or within the area boundaries. Please contact a resort representative if you have any questions or if you seek prior authorization to operate such devices. Any authorized operation of drones on or above Resort property will be governed by Federal Aviation Administration (FAA) rules and regulations, local law enforcement, and/or U.S. Forest Service rules, as well as those policies separately established by this Resort, which may include certification, training, insurance coverage, indemnification requirements, and waivers or releases of liability. Any violation of this policy may involve suspension of your access privileges to the Resort, or the revocation of your season pass, as well as confiscation of any prohibited equipment, and may subject violators to any liability for damages, including, but not limited to, damages for trespass, violation of privacy, and physical injuries to persons and/or property, as well as legal fees.